Linkage to Care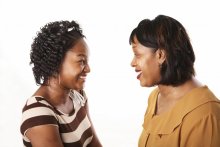 Successfully linking to specialized obstetric and HIV care is essential to preventing HIV transmission from mother to infant.
For high-risk pregnant women living with HIV who need additional support, the 24/7 Illinois Perinatal HIV Hotline partners with Mother and Child Alliance (MACA) to offer perinatal enhanced case management. Enhanced case managers provide pregnant women living with HIV the help and support they need to ensure a healthy pregnancy and delivery as well as postpartum care for both mother and her HIV-exposed infant.
Perinatal enhanced case managers also assist hospital staff caring for women with preliminary positive rapid HIV tests. In most cases, an enhanced case manager can visit the mother in the hospital within hours of the positive rapid test being reported to the 24/7 Illinois Perinatal HIV Hotline and offer counseling and support during the sensitive time between the preliminary test and the confirmatory result.
Enhanced case managers link mothers living with HIV and their infants to a safety net of services during and after pregnancy no matter where they live in Illinois. Services include the following:
Specialty prenatal care
Postpartum obstetric, adult and pediatric HIV care
Transportation to and from appointments
Home visits
Food and housing assistance
Substance use and mental health treatment
Benefits (Medicaid, WIC, Ryan White)
The MACA Enhanced Case Management Program is part of the Northeastern Illinois HIV/AIDS Case Management Cooperative and provides services exclusively to  pregnant women living with HIV.
Call the 24/7 Illinois Perinatal HIV Hotline today at 1-800-439-4079 for assistance with linkage to care.